Pubblicazioni

Contatta l'Ospedale Veterinario San Michele per maggiori informazioni
Autologous adipose tissue-derived stromal vascular fraction cells in dogs with osteoarthritis – safety, feasibility and clinical outcome
O. Zeira, S. Scaccia, E. Ghezzi, N. Asiag, L. Pettinari, L. Martinelli, D.Zahirpour. M.Dumas, M.Konar, ◦L.Fiette, M.Aralla
IFATS – International Federation for Adipose Therapeutics and Science, San Diego, November 2016
Paclitaxel releasing mesenchymal stromal cells isolated from dog bone marrow as possible therapy of canine gliomas
O. Zeira, E. Ghezzi, L. Pettinari, M. Aralla, N. Asiag, M. Konar, A. Pessina, G. Alessandri.
GISM Brescia 2016
Paclitaxel releasing mesenchymal stromal cells treatment in canine gliomas
O. Zeira, E. Ghezzi, L. Pettinari, M. Aralla, N. Asiag, M. Konar, A. Pessina, G. Alessandri.
29thAnnual Symposium of the ESVN-ECVN
Optic neuritis and retinal degeneration treated with MSCs in a dog – a case report
Zeira Offer, Monti Tiziano, Pettinari Letizia, Ghezzi Erica, Aralla Marina, Martinelli Laura, Konar Martin Approved for Third International Workshop of Veterinary Neuroscience, 14-16 febbraio 2016 Hannover
Safety, feasibility and preliminary clinical findings for the treatment of canine MUO with adult autologous mesenchymal stem cells
Asiag N., Aralla M., Ghezzi E., Pettinari L., Martinelli L., Zahirpour D., Dumas MP., Lupi D., Scaccia S., Konar M., Cantile C., Zeira O. Approved for Third International Workshop of Veterinary Neuroscience, 14-16 febbraio 2016 Hannover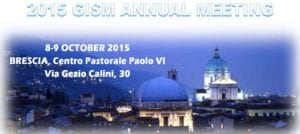 2015 GISM MeetingPaclitaxel releasing of Mesenchymal Stromal Cell isolated from dog bone marrow and adipose tissue as a possible therapy for canine gliomas – end phase I, beginning of phase II
Zeira O. GISM Annual Meeting, 8-9 ottobre Brescia

Angiogenic and anti-inlammatory properties of micro-fragment fat tissue (Lipogems®) and its derived mesenchymal stromal cells
Ceserani V., Ferri A., Berenzi A., Benetti A., Ciusani E.,Pascucci L., Bazzucchi C.,Coccè V., Bonomi A., Pessina A., Ghezzi E., Zeira O., Ceccarelli P., Tremolada C., Alessandri G. GISM Annual Meeting, 8-9 ottobre Brescia
 
Morphological characterization of canine adipose tissue processed by means of Lipogems ®device
Pascucci L., BAzzucchi C., Zeira O., Ghezzi E., Ceccarelli P., Pessina A., Alessandri G. GISM Annual Meeting, 8-9 ottobre Brescia
 
Autologous mesenchymal stromal cell treatment in optic neuritis and retinal degeneration in a dog – a case report
Pettinari L., Monti T., Ghezzi E., Aralla M., Martinelli L., Konar M., Bonomi A., Ceserani V., Coccè V., Zeira O. GISM Annual Meeting, 8-9 ottobre Brescia

Efficacy of Mesenchymal Stromal Cells therapy for the treatment of idiopathic autoimmune inflammatory diseases of the canine CNS
Zeira O., Ghezzi E., Pettinari L., Konar M., Cantile C., Scaccia S., Asiag N., Aralla M.
5th International Satellite Symposium AICC-GISM – Advances in mesenchymal stem cell research – Verona 2014
 
Mesenchymal Stromal Cells as regenerative treatment in canine advanced liver diseases
Zeira O., Ghezzi E., Pettinari L., Rossi F., Rubini G., Spaziante D., Scaccia S., Asiag N., Martinelli L., Aralla M.
5th International Satellite Symposium AICC-GISM – Advances in mesenchymal stem cell research – Verona 2014
Safety and feasibility of autologous mesenchymal stem cell implantation in 14 dogs with suspected degenerative    myelopathy
Aralla M., Ghezzi E., Pettinari L., Comazzi S., Konar M., Cantile., Zeira O. 4° International Satellite Symposium AICC-GISM – Mesenchymal stromal cells advances, Brescia 2013

Safety and feasibility of autologous mesenchymal stem cell implantation in 12 dogs with suspected degenerative myelopathy
Ghezzi E.,Pettinari L., Aralla M., Konar M. Cantile C., Briola C., Zeira O.
12th Congress of Cell Transplant Society Milano 2013
Safety and feasibility of autologous mesenchymal stem cell implantation in 3 dogs with suspected degenerative myelopathy – A pilot study
Ghezzi E.,Pettinari L., Aralla M., Konar M. Cantile C., Briola C., Zeira O.
 25th Annual Simposium Europea Society of Veterinary Neurology and European College of Veterinary Neurology, Ghent 2012
Safety and feasibility of autologous mesenchymal stem cell implantation in 3 dogs with suspected degenerative myelopathy
Zeira O., Ghezzi E.,Pettinari L., Aralla M., Konar M
European Veterinary Conference Voorjjrsdagen 2012
Congenital malformations associated with inbreeding in white lions
Scaglione FE, Schröder C, Degiorgi G, Zeira O, Bollo E
International Conference on Diseases of Zoo and Wild Animals, Hilvarenbeek, NL, 2009
Electrodiagnostic studies of a case of canine globoid cell leucodystrophy
O. Zeira, E. Bianchi, D. Callegari, A.M. Cantoni, R. Di Lecce, M. Dondi
ECVN and ESVN Annual Veterinary Neurology Symposium – Barcelona, Spain – Neuroimaging 2006
Extra abdominal omental pedicle graft for the reconstruction of a chronic, nonhealing, complicated wound in a dog
Tambella Adolfo Maria, Zeira Offer, Dini Fabrizio, Vullo Cecilia, Scrollavezza Paolo
Societa' Italiana delle Scienze Veterinarie – SISVETLIX Convegno Nazionale – Viareggio, 2005
Multilobular Osteocondrosarcoma – review di 8 casi
Offer Zeira, Fabrizio Dini, Stefano Skert
Congresso SITOV, giugno 2002
Neuroradiologia dell'encefalo e del rachide: CT e MRI , review di 30 casi di interesse chirurgico
Offer Zeira
VII Congresso Della Societa' Italiana Di Chirurgia Veterinaria Giulianova Lido, 2005 
La terapia chirurgica dell'idrocefalo nel cane
O. Zeira, F. Dini, I. Tonduti, H. Giuliano, D. Trani
Societa' Italiana Chirurgia Veterinaria xi° Congresso Nazionale – Grugliasco 10-12 giugno 2004
Multilobular osteocondrsarcoma – a reviw of 5 cases
Zeira O. DVM PhD Milan Italy, Forterre F. DVM Dip
ECVS Berlin Germany, 2003
Zeira O, Ghezzi E, Pettinari L, Re V, Lupi DM, Benali S, Borgonovo S, ALessandri G, Petrella F, Paroni R, Dei Cas M, Tremolada C, Coccè V, Pessina A. 
Frontiers in Veterinary Science 7, January 2021
doi: 10.3389/fvets.2020.585427
Angiogenic and anti-inflammatory properties of micro-fragmented fat tissue and its derived mesenchymal stromal cells
Ceserani V, Ferri A, Berenzi A, Benetti A, Ciusani E, Pascucci L, Bazzucchi C, Coccè V, Bonomi A, Pessina A, Ghezzi E, Zeira O, Ceccarelli P,Versari S, Tremolada C, Alessandri G.
Vascular Cell. 2016 Aug 18;8:3. doi: 10.1186/s13221-016-0037-3
Zeira O., Asiag N., Aralla M., Ghezzi E., Pettinari L., Martinelli L., Zahirpour D., Dumas MP., Lupi D., Scaccia S., Konar M., Cantile C.
J Neuroinflammation. 2015 Sep 29;12(1):181.
Congenital bipartite atlas with hypodactyly in a dog: clinical, radiographic and CT findings
M. Wrzosek,M. Płonek, O. Zeira, J. Bieżyński, W. Kinda, M. Guziński
Journal of Small Animal Practice Volume 55, Issue 7, 2014 
 Clinical and diagnostic imaging findings in an Italian wolf (Canis lupus italicus) with discospondylitis
Offer Zeira, Chiara Briola, Martin Konar, Marta Plonek, Valentina Papa
Journal of Zoo and Wildlife Medicine, December 2013
Suspected neurotoxicity due to clostridium perfringens type b in a tiger (panthera tigris)
Offer Zeira, D.V.M., Ph.D., Chiara Briola, D.V.M., Martin Konar, D.V.M., Dipl. E.C.V.D.I., Maria Pia Dumas, D.V.M., Marcin Adam Wrzosek, D.V.M., PhD., Dipl. E.C.V.N., and Valentina Papa, D.V.M., Ph.D.
Journal of Zoo and Wildlife Medicine, September 2012
Cranial Malformations in Related White Lions (Panthera leo krugeri)
F. E. Scaglione, C. Schro¨der, G. Degiorgi, O. Zeira, and E. Bollo
Veterinary Pathology, 2010
Long term remission of a nasal lymphoma with intracranial extension in a cat
Bianchi E., Bonati L., Callegari D., Cantoni A.M., DI Lecce R., Dodi P.L., Quintavalla C., Zeira O.
Ann. Fa. Medic. Vet. di Parma, Vol XXV, 2005